July 20, 2021 | Vol. 20 | Issue 7
Tony Rossell, MGI Senior Vice President
Insights from the 2021 Membership Marketing Benchmarking Report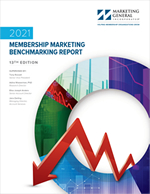 The 2021 Membership Marketing Benchmarking Report validated what many of us have experienced; it has been a challenging year for association membership. Not since the Great Recession over a decade ago have more associations reported that their membership declined than those showing an increase. However, despite the challenges, there remain points of light that provide hope for the future of a forceful rebound for membership programs.
Here are the sobering statistics from this past year. A total of 47% of associations are reporting declines in their total membership. Of those who say membership has declined, the median percentage drop in counts is 9%. Member renewal rates are also impacted. 45% of associations report declines in member renewals, almost double from the previous year's 24%. On top of membership challenges, 80% of associations say that their annual in-person meeting was canceled or postponed in 2020.
These outcomes have had repercussions on the budget and staff of associations. Two in ten associations report that their association experienced employee layoffs and salary or hour reductions. And 12% say that they furloughed employees.
Despite these trials, our benchmarking data does offer some promise of a turnaround for future results.
The overall membership trend for associations remains positive. Nearly half of associations (45%) indicate that their membership still shows an increase over the past five years. The Benchmarking Report has tracked membership for over a dozen years. Looking back at outcomes from previous economic disruptions like the Great Recession in 2008 and 2009, we see that membership made a remarkable recovery in subsequent years. In the years after that economic downturn, the proportion of associations reporting increased membership rose rapidly from a low of 36% to nearly 50% and higher in the following years.
Here are some of the important insights from this year's report on what did work for associations this past year and what opportunities lie ahead for membership recruitment, engagement, and renewal going forward.
Recruitment
Despite the adverse conditions of the past year, about 1 in 4 associations still saw membership growth last year (26%). One of the most critical factors was continuing membership recruitment efforts. Only 29% of associations saw an increase in new member acquisition last year–a dramatic decline from 45% the prior year. However, associations that increased new member input were far more likely to see overall membership growth (63%, compared to 7%).
The Membership Marketing Benchmarking Report highlighted the contributions to effective membership recruitment.
Providing a compelling value proposition. In the survey, associations reporting increases in their new member and overall membership in the past year are significantly more likely to say their association's value proposition is very compelling or compelling. More than half of associations believe their value proposition to be compelling or very compelling (52%, up from 48% in the previous year).
Innovating to Meet Changing Needs. This year's report also shows evidence of associations' ability to understand and rapidly address members' and prospects' changing needs. The percentage of association executives who consider their organization very or extremely innovative has seen a significant increase (29%, up from 20% in 2020). The ability to innovate correlates with increases in new members. An impressive 78% of associations reported that they developed new products and services to assist members and member companies over the past year.
Engagement
One data point that jumps out from the 2021 Membership Marketing Benchmarking Report is the outstanding response of associations to support members during the pandemic and subsequent recession. Members turned to their professional and trade associations for assistance at record levels. And the data shows that associations responded heroically.
One remarkable statistic testifies to this heightened relationship. Seven in ten associations (71%) reported that the level of member engagement increased this year.
This year's report highlights the products and services driving increased member participation. Associations reported tremendous growth in three areas when asked how they had seen engagement change over the previous year. 83% said they had higher participation in their webinars compared to 53% in the previous year. Additionally, those seeing increased attendance at professional development meetings rose to 57%, up from 44%. And those reporting an uptick in the visits to their members-only section of the website grew to 56%, up from 44%.
A very practical example of helping members through the economic challenges was offering assistance in finding jobs. 37% reported an increase in the members' use of their career services.
Renewal and Reinstatement
The 2021 Membership Marketing Benchmarking Report highlights how associations have adapted membership renewals over the past year to assist members. One shining example is that half of the associations offered hardship accommodations for their members when it came time for them to renew. In addition, many associations extended their grace period to help members during this challenging time. In 2020, 23% of associations reported that they did not offer a membership grace period. That number dropped to only 16% this year. In fact, all association categories, on average, have extended the grace period that they offer.
More than three in ten associations offered members installment payment options and automatic annual credit card renewal options. In a year where many industries saw a significant shift in their workforce from the office to a home-based workspace, mailed renewal notices may have gone unopened in office mailboxes. Associations that offered installment dues payments and auto credit card renewals were more likely to see increases in their renewals than those groups that did not.
In many cases, the decrease in renewal rates for associations was driven by those who let their membership expire due to job losses and budget cuts. These members did not leave for lack of value, so now may be the time to focus on reinstatement efforts by continuing to communicate the importance and benefits of membership. Many associations maintain contact well after a member departs. 22% of reporting associations never stop contacting expired members. With hope on the horizon for a better year ahead, your lapsed members may now be in a better position to reinstate their membership, but they won't do so unless you ask.
Next Steps
To get your copy of the 2021 Membership Marketing Benchmarking Report, please go to the Knowledge Bank on the Marketing General Incorporated website.
Because of the challenges we all have faced, you may have questions or need assistance with your membership marketing. Our team at Marketing General Incorporated would be pleased to hear from you. For more information, please contact Tony Rossell at Tony@MarketingGeneral.com or 703.706.0360.